Watch Messi all season: 2023 MLS Season Pass is now more than 50% off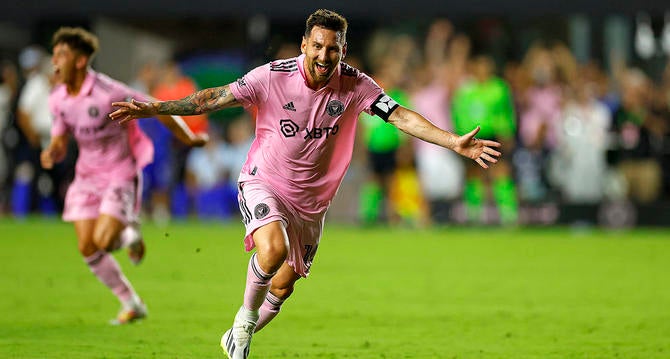 Soccer may be the world's most popular sport, but Americans have been slow to fully embrace it until now. Here in the U.S., soccer recently replaced hockey as the fourth most-popular sport, with viewership for Major League Soccer (MLS) — the soccer league in the U.S. and Canada — seeing record-breaking engagement. And with Messi playing his first game for Inter Miami CF tonight, the sport stands to gain even more fans.
In February, MLS ditched its longtime partnership with ESPN and signed a 10-year deal with Apple TV. Now you can easily watch every 2023 MLS game, including Messi's Inter Miami CF games, on Apple TV with the MLS Season Pass App. And the best part is that Apple TV's MLS Season Pass is currently more than 50% off. Even monthly subscriptions are discounted.
If you stop reading here to go sign up, this writer will not be offended. Otherwise, keep reading to learn more details about Apple TV's MLS Season Pass and how it works.

Save over 50% on MLS Season Pass


---
What is MLS Season Pass?
We thought you'd never ask.
Available in more than 100 countries, Apple TV's MLS Season Pass App is a new streaming service featuring "every live MLS regular-season match, the entire Audi MLS Cup Playoffs and Leagues Cup1 all in one place, with consistent match times and no blackouts," according to Apple.
In addition to being a viewing hub for MLS games and League Cup games, MLS Season Pass App is also home to hundreds of MLS NEXT Pro and MLS NEXT games.
Regularly $14.99 per month (or $99 for the season), Apple TV slashed prices midseason to make it easier for fans to watch Messi play. You can now watch the rest of the 2023 MLS season for $39. Monthly subscriptions have been slightly reduced, too, to $12.99 per month.
Note that the annual pass renews at the beginning of the 2024 season at the regular rate unless you cancel.
Get MLS Season Pass App:
---
About The 2023 MLS Season
The 2023 MLS regular season runs through October 21. Playoffs are scheduled from October 25 through December 9.
Part of MLS increased popularity in the U.S., is the league's expansion since the 2005 season. The league recently added franchises in St. Louis, MO for 2023, and announced a San Diego team is planned to join the league in 2025. There are currently 29 teams in the NSL.

Save over 50% on MLS Season Pass


---
Related Content on CBS Sports: