Months After Their Friendship Blossomed, Neymar Jr. Will Join His NBA Buddy Jimmy Butler for a Very Significant Duty
The brotherhood between the two superstars is special! Miami Heat star Jimmy Butler and Brazilian soccer icon Neymar Jr. are one of the duos that have received a lot of love of late. Neymar was even seen at the Kaseya Center to support Butler and Co. for Game 3 of the NBA Finals. Days after Butler's championship run came to an end, the 33-year-old decided to spend his off-season break with his soccer buddy, but for something very special.
Butler and Neymar have a lot in common. However, this latest addition stands as a very special one for both superstars. But what is it? 
Jimmy Butler joined Neymar Jr. in Brazil for a special occasion 
ADVERTISEMENT
Article continues below this ad
Neymar has a lot of trust in Butler's game. Though Game 3 was a disappointment for the two, Neymar made sure he shared some good words about the 7-time All-Star. Butler couldn't bag a win but showed love to the 31-year-old for supporting him courtside.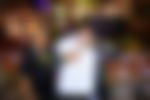 Butler shared, "That's my guy. Part of my routine on game days and off-days is I watch all types of sports of people who inspire me to be great and he's one of them." It's no doubt the two have a lot of love and respect for each other, and now Butler joined Neymar back at his home for a special day. 
In April, Neymar announced that his partner Bruna Biancardi was expecting. Now on another special occasion, the 31-year-old revealed he will be having a girl child with the Brazilian model. Butler shared on his Instagram post, "Girl Dads", with some wholesome pictures from the gender reveal party. Looks like the two have another common duty now, as Butler is also a dad of a 3-year-old girl. 
Both stars will have the duty of being girl dads now. In addition, the two were also seen having fun in Butler's Instagram stories. 
The two stars had some fun before the gender reveal
Butler was on cloud nine in Brazil alongside Neymar. The Miami veteran spammed Instagram stories on his day out with the soccer star. One particular story which caught the fans' attention was of the two bowling. Looks like Neymar isn't just good at soccer!
Butler shared a few stories in which the PSG star flexed the clean strikes.
ADVERTISEMENT
Article continues below this ad
The Heat star shared another story in which he failed to clear all the pins as he stood in denial. All things considered, Butler is having a good time in Brazil to recover from the Finals upset.

ADVERTISEMENT
Article continues below this ad
Watch this story: "Damian Lillard drops a time-bomb about his NBA future"
What are your thoughts on this bromance between Butler and Neymar Jr.? Share in the comments below.