Man Utd lose injured Eriksen for three months
Christian Eriksen has been ruled out until April at the earliest, after being forced off in Manchester United's FA Cup win over Reading.
The midfielder, who was caught by a tackle from Andy Carroll, left Old Trafford on crutches after the 3-1 win on Saturday and now looks set to miss a significant amount of United's run-in.
"While investigations are continuing, initial assessments indicate that Eriksen is likely to be out until late April or early May," Man Utd announced on their official website.
The 30-year-old has been a key figure for Man Utd boss Erik ten Hag this season, recording seven assists and scoring once in 19 Premier League appearances.
Ten Hag: Fred and Casemiro a good partnership – but we'll miss Eriksen's quality in final third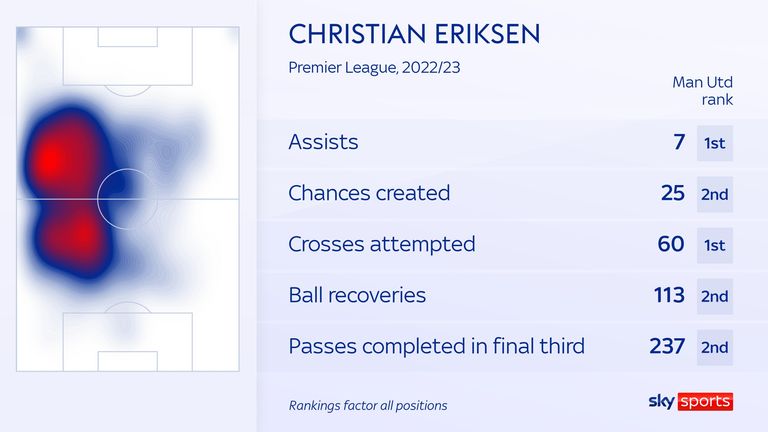 Speaking in a press conference ahead of United's Carabao Cup semi-final second leg with Nottingham Forest, Ten Hag explained he has options to cover Eriksen's absence – but admitted it would be hard to replace the Dane's quality in attacking areas.
"He's disappointed and we're disappointed, but it happens in top football. You have to deal with it," said Ten Hag.
"We have players in midfield, good players, who can fill the gap. Every player has their own characteristics and identity. Eriksen brings top quality to our squad and some characteristics are hard to replace, for instance his quality in the final third."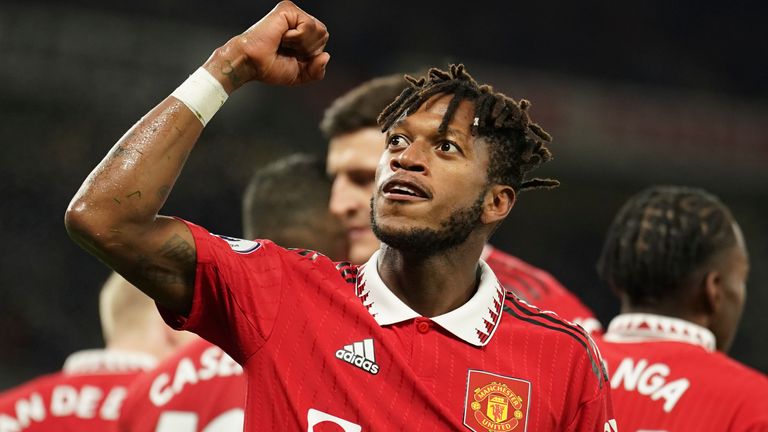 Asked about Fred playing a key role as United look to replace Eriksen, Ten Hag said: "Fred's playing with Casemiro in the Brazil squad, that's not the worst squad in the world!
"They have so many choices they can make but they prefer to play them together. Fred can contribute a lot to the team. He has a lot of qualities and I think Casemiro and Fred are a good partnership."
'No place for Carroll tackle in football'
Ten Hag's anger at Reading striker Carroll's thoughtless challenges, though, was clear.
The veteran frontman avoided a booking for his tackle on Eriksen early in the second half, which was swiftly followed by yellow cards for fouls on Tyrell Malacia and Casemiro.
"I am disappointed about that," he said of the lack of a booking for Carroll's challenge on Eriksen. "I think football has to set limits, restrictions, that you protect the players.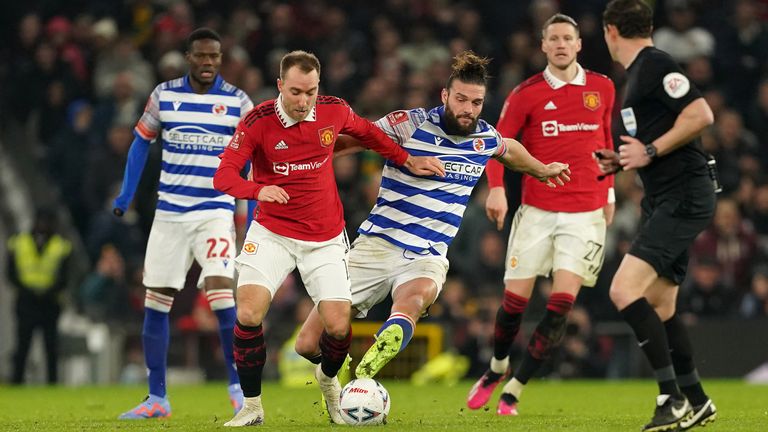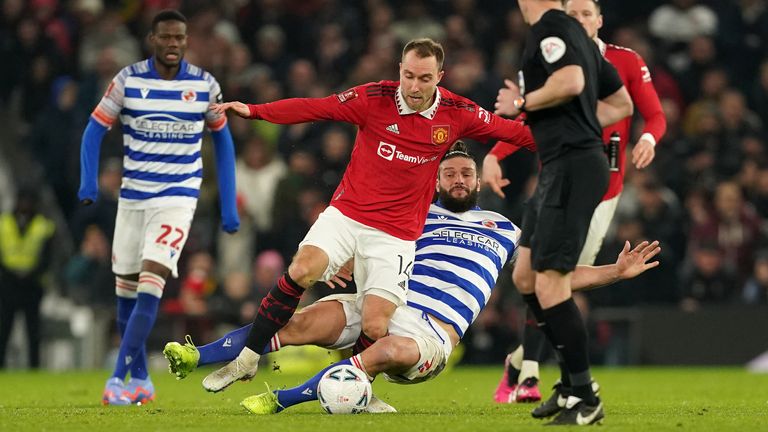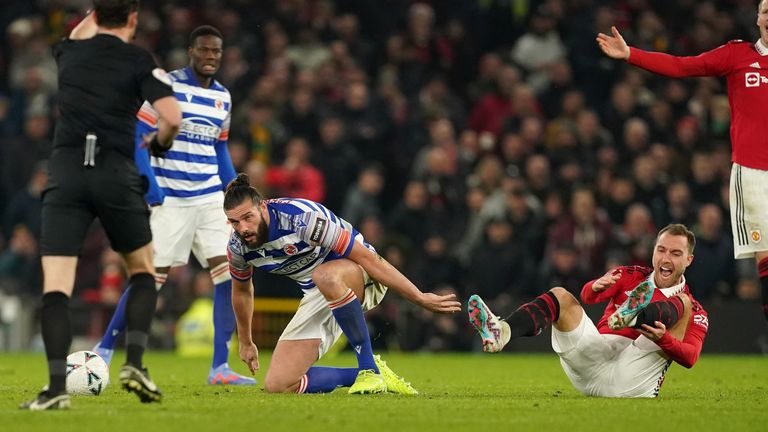 "I think what football wants is the best players being available on the pitch. This tackle and the two tackles after… they don't belong on the football pitch because it's a high risk to injure your colleague, so I think it's worse. So, I am wondering about that.
"For instance, I am wondering more in Crystal Palace when there is an elbow on (Lisandro) Martinez and I don't even know if it was a whistle for a free-kick. But no one is interfering then. I am wondering about such things because it's a risk of injury for the player."
United have already lost Donny van de Beek for the remainder of the campaign and Ten Hag has revealed Scott McTominay is sidelined with a muscle issue.
"Of course it's a concern but there are things you have to deal with," he said of injuries. "You can't do anything for it.
"You can set the squad but if in January at this moment Donny is dropping out for the rest of the season and Christian Eriksen for the coming part of the season – then also Scott McTominay is not available I think also for the coming week, two weeks, maybe even longer – that means we have a challenge there.
"But we have quality players there, that is also obvious, but in the depth it's not that good any more but we have a team to deal with that."
Carragher: A blow but Man Utd still on for top-four finish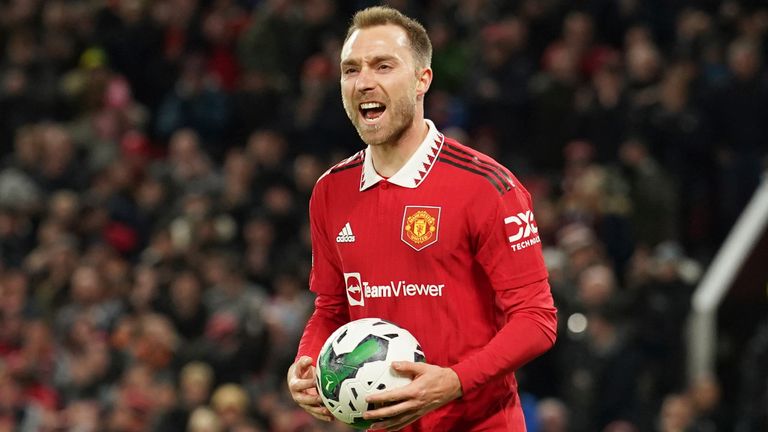 Reacting to the news, Sky Sports pundit Jamie Carragher said Eriksen would be a miss for United, given the impact he's had in the middle of the park for them, but suggested they have the cover to maintain the momentum which has pushed them up into the Champions League qualifying places.
"It's a big blow because the midfield has been the biggest turnaround for Man Utd this season, with Casemiro being there, Eriksen alongside him and Bruno Fernandes in front of them," said Carragher. "Fred and Scott McTominay have been much maligned over the last couple of years. A lot of that has been harsh. Fred alongside Casemiro – you're talking about Brazil's central midfield.
"But Man Utd aren't going to win the league and I don't think they're going to fall out of the top four, so it's not going to massively affect them in terms of where they finish this season, there's too big a gap between themselves, Arsenal and Man City [and the rest]."
Man Utd vs Nottingham Forest – Carabao Cup, February 1 – live on Sky Sports
Man Utd vs Crystal Palace – Premier League, February 4
Man Utd vs Leeds – Premier League, February 8
Leeds vs Man Utd – Premier League, February 12 – live on Sky Sports
Barcelona vs Man Utd – Europa League, February 16
Man Utd vs Leicester – Premier League, February 19 – live on Sky Sports
Man Utd vs Barcelona – Europa League, February 23
Man Utd vs Brentford – Premier League, February 26
Man Utd vs West Ham – FA Cup, March 1
Liverpool vs Man Utd – Premier League, March 5
Man Utd vs Southampton – Premier League, March 11
Brighton vs Man Utd – Premier League, March 19
Newcastle vs Man Utd – Premier League, April 1
Man Utd vs Everton – Premier League, April 8
Nottingham Forest vs Man Utd – Premier League, April 15
Man Utd vs Chelsea – Premier League, April 22
Tottenham vs Man Utd – Premier League, April 25
Man Utd vs Aston Villa – Premier League, April 29