Kane to miss Barcelona friendly | Bayern continue talks
Harry Kane has not travelled to Barcelona for Tottenham's final pre-season friendly as talks between Bayern Munich and Spurs remain ongoing despite the latest and 'final' offer for the striker being rejected.
Tottenham tested Bayern's resolve after the German champions made it clear it was their final offer.
Sky Sports News has, however, been told neither side has walked away completely from the negotiations.
Kane scored four goals and received a standing ovation in Tottenham's 5-1 friendly victory over Shakhtar Donetsk on Sunday.
Along with Kane, most of the Spurs players who featured against Shakhtar have not travelled for Tuesday night's fixture against Barcelona.
Kane is enjoying life under new Tottenham head coach Ange Postecoglou and it is now looking more likely that he is staying at the club.
Please use Chrome browser for a more accessible video player
Tottenham head coach Ange Postecoglou says he is 'in open dialogue' with Harry Kane over a potential move to Bayern Munich

He wants his future sorted this week before Tottenham's first Premier League game of the season at Brentford, live on Sky Sports on Sunday August 13.
One of the reasons Kane wants his future resolved now is for personal reasons. His wife is due to give birth in a couple of weeks and can no longer travel.
Kane was due to be discussed at a meeting of Bayern Munich's executives on Monday as they mull over their pursuit of the 30-year-old, according to Sky in Germany.
Please use Chrome browser for a more accessible video player
Kane scored four goals in Tottenham's 5-1 victory over Shakhtar Donetsk amid continued uncertainty over his future at the club

The German side were waiting on a response from Tottenham after submitting what they considered to be a 'fair and final offer' for the striker, worth more than €100m (£86m) including add-ons.
Bayern felt they compromised with the offer. When the club representatives met in London there was at least a £20m gap in valuation – Bayern's offer on Friday reduced that gap further.
The Bundesliga champions wanted a quick response otherwise they could move on to other targets. That position will now be tested and it remains to be seen what their next move might be.
Please use Chrome browser for a more accessible video player
Tottenham midfielder Dejan Kulusevski says the squad can all learn from the example set by Harry Kane who, despite the rumours surrounding his future, was still able to score four goals against Shakhtar Donetsk in a pre-season friendly

Kane is out of contract next summer and the risk for Spurs is keeping him beyond the current transfer window and losing an elite goalscorer on a free next summer, potentially to a Premier League rival.
Kane scored 30 Premier League goals last season in a disappointing campaign for Spurs as they finished eighth to miss out on European football, while they remain without a trophy since 2008.
He has scored 280 goals in 435 appearances for the club, having scored his first Spurs goal in December 2011, while in the Premier League he has netted 213 times in 320 Premier League games and is currently 48 goals off breaking Alan Shearer's record as the highest scorer in Premier League history.
What to watch on Sky Sports this week
Enjoy live action from the Premier League, EFL, Scottish Premiership and more
Burnley vs Man City – August 11 – LIVE on Sky Sports Premier League
Coventry vs Middlesbrough – August 12 – LIVE on Sky Sports Football
Newcastle vs Aston Villa – August 12 – LIVE on Sky Sports Premier League
Aberdeen vs Celtic – August 13 – LIVE on Sky Sports Football
Brentford vs Tottenham – August 13 – LIVE on Sky Sports Premier League
Chelsea vs Liverpool – August 13 – LIVE on Sky Sports Premier League
The Hundred – August 1 to 27 – LIVE on Sky Sports Cricket
Women's Open – August 10 to 13 – LIVE on Sky Sports Golf
FedEx St Jude Championship – August 10 to 13 – LIVE on Sky Sports Golf
'Bayern's final offer a potential transfer tactic'
Please use Chrome browser for a more accessible video player
Paul Gilmour explains that despite Bayern Munich's latest bid for Harry Kane being rejected, it does not mean the German side have given up on the Tottenham striker yet

Sky Sports News reporter Paul Gilmour:
"We are at a critical point of the negotiations because the end point does feel close, but Tottenham have made their feelings known they will not be pushed around by Bayern Munich. What happens next depends on Bayern. We're told they could improve their offer despite this latest 'final' offer.
"Perhaps the insistence that this was Bayern's 'final' offer was part of a tactic to put pressure onto Spurs because it suits Bayern to get this deal done quickly; they ideally would like Kane in their squad for this weekend's German Super Cup.
"From Bayern's perspective, they feel they have compromised. There was a minimum gap of £20m in the valuation when the two clubs met in London last week, Bayern have reduced that gap with their latest offer, but that is not enough for Tottenham, who still feel it doesn't match their valuation.
"Despite this, Bayern will feel the door is still open because nobody has walked away from the table."
Postecoglou unfazed by 'tough' new beginnings
Please use Chrome browser for a more accessible video player
Tottenham head coach Ange Postecoglou says he won't let the transfer talk surrounding Harry Kane distract him on his new role at the club

Spurs manager Postecoglou sat down to speak with Sky Sports' Peter Smith on Monday, where Kane's future was put to the Australian…
How much of distraction has the Harry Kane situation been? We saw he scored four goals [on Sunday], so clearly he's still focused and delivering, but when you're trying to build this unit, to play in this way, in these complex tactical systems, knowing that key component may or may not be there in a couple of weeks' time, how hard has that been for you?
To be honest, it's the same as every other club I've been at. You know, the beginnings are always tough and at Celtic, you just have to look at the first six games, I lost three of them because we were still buying players until the last day of the window. I didn't even have a core of a team, let alone missing a key player. It was the same in Japan.
Please use Chrome browser for a more accessible video player
Sky Sports News chief reporter Kaveh Solhekol shares the latest on Harry Kane's potential move to Bayern Munich and why the situation must be resolved soon

So the beginnings are always like that. So for me it's kind of normal. I think when you go into a job, certainly whenever I've changed, you're going in knowing that they're seeking change and whenever there's change, the beginnings are tough. In this case, Harry is obviously the biggest one.
You just learn to deal with it. I've learned to become really disciplined to make sure that I don't just focus on one thing. I don't get distracted by what I think is the most important thing.

Sunday 13th August 1:00pm


Kick off 2:00pm

The most important thing right now for us is to build a team. It's not about one or two. If this was year two, year three of the project and the team's already playing the way I wanted to, and we've got the foundation of a really good squad, and Harry was the only thing floating about, I'd be spending a lot more time on it and it'll probably be a little bit more distracting in terms of the energy I need.
But right now, as important as Harry is to this group, what's more important for me is what I do with the group.
I was going to ask you what success might look like this season for you but I guess implementing your style and having the team play how you want to would be one. But does Harry's situation affect whether you're going for a certain points total, or a position?
No, I just don't look at it that way. I've never set a goal or target in my life because if I did, I'd probably wouldn't have achieved the success I've had, because the reality of it is a lot of the success I've had has been unexpected, even by myself.
So by not putting targets on and goals… you could reach that goal quite easily, and then everyone takes their foot off the pedal. I'm just not about that. It's about being the best team [we] can be. I said at the start, I think what I've come to realize, Is because, you know, wherever I've been, if the success hasn't come in the first year, it certainly has in the second.
Please use Chrome browser for a more accessible video player
Kaveh Solhekol and Paul Gilmour give greater insight into Bayern Munich's failed bid for Harry Kane and reveal why the striker wants his future clarified as soon as possible

But the supporters have given a fairly good gauge as to how we're going. What they see and how they feel is… if we get to the end of this year and our supporters are happy with our season, then I think we'll achieve what we wanted to but what that looks like in a tangible sense, points, trophies, who knows mate?
That's got to be our goal to get to the end of the season and the most important people at the football club, the fans, feel like their team has progressed and has given them hope for what's ahead.
Solhekol: Spurs won't dance to Bayern's tune
Sky Sports News chief reporter Kaveh Solhekol:
"I think it's interesting that Tottenham don't seem to be dancing to Bayern's tune.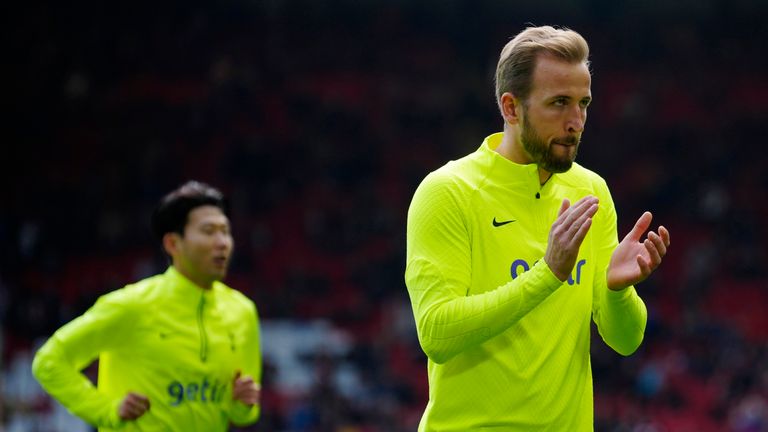 "There were a lot of reports coming out of Germany on Friday saying that Bayern Munich needed to know by midnight on Friday otherwise they were going to walk away.
"Spurs have taken their time. They are not going to abide by any arbitrary deadlines that Bayern Munich impose. They have taken their time and they have let it be known that the offer has been rejected."
Who will be on the move this summer when the transfer window opens on June 14 and closes at 11pm on September 1 in England and midnight in Scotland?
Keep up to date with all the latest transfer news and rumours in our dedicated Transfer Centre blog on Sky Sports' digital platforms. You can also catch up with the ins, outs and analysis on Sky Sports News.