Everton directors told to stay away from Goodison over 'real and credible threat'
Everton's board of directors were told not to attend Goodison Park for Saturday's game against Southampton because of a "real and credible threat to their safety and security."
Fans' groups staged protests against the board at the match, which ended in another defeat to leave Everton joint-bottom of the Premier League.
Boos rang around Goodison Park at full-time for what was their sixth loss in seven league matches, with many fans staying behind to voice their discontent with the owners in an organised sit-in.
Sky Sports News' Peter Stevenson, who was at Goodison Park, reported: "Hundreds of Everton fans stayed to chant 'sack the board'. Scores of stewards were preventing any pitch invasion.
"Many fans just seemed to be standing in stunned silence as this famous old club looks under increasing threat of dropping into the Championship.
"It's an unthinkable prospect as their costly new stadium takes shape on the banks of the Mersey."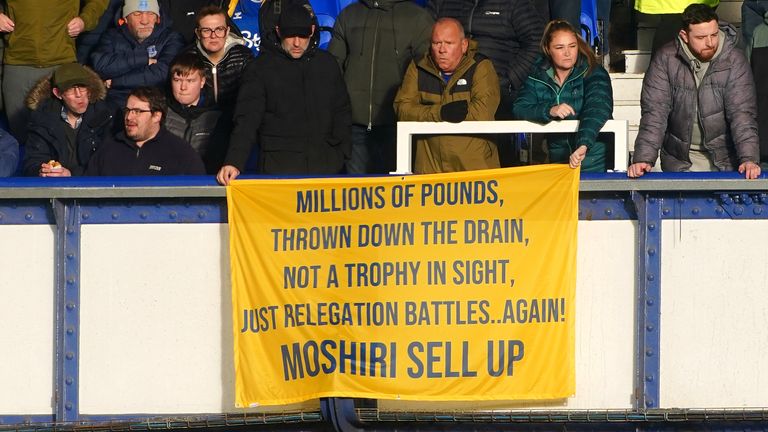 Earlier on Saturday the team bus arrived at Goodison with a police escort.
An Everton statement read: "Chairman Bill Kenwright, CEO Denise Barrett-Baxendale, chief finance and strategy officer Grant Ingles and non-executive director Graeme Sharp have reluctantly accepted the outcome of the safety assessment carried out by security advisors.
Please use Chrome browser for a more accessible video player
The Everton team bus arrives under police escort in front of frustrated fans ahead of their clash against Southampton.

"The board members received the instruction following malicious and unacceptably threatening correspondence received by the club and increasing incidents of anti-social behaviour – including targeted physical aggression – at recent home matches."
A security and safety advisor said: "Following a thorough risk assessment, and in response to tangible threats received by the club and intelligence we have gathered, the club's board members have been told they must not attend today's fixture."
A club spokesperson added: "This is an unprecedented decision for Everton Football Club – never before has our entire Board of Directors been ordered not to attend a match on safety grounds. It is a profoundly sad day for Everton and Evertonians."
Concerns for board members have increased in recent weeks. Chief executive Denise Barrett-Baxendale was put in a headlock by a fan at a recent home game. Barrett-Baxendale was not hurt.
Owner Farhad Moshiri, in an open letter this week, insisted his and the club's ambitions were aligned with supporters but stressed manager Frank Lampard and the club's board retained his complete faith.
"We are all agreed that our current league position must and will improve," he said. "The focus of myself, the club and the fans is aligned – a better Everton – and I am confident we can move forward in a constructive and positive manner."
Lampard: I'm not a miracle worker
Please use Chrome browser for a more accessible video player
Frank Lampard said that it is his job to focus on Everton's results and not protests against the ownership of the club following defeat to Southampton.

Everton manager Frank Lampard, speaking after the 2-1 defeat to Southampton:
"I know I am not a miracle worker and I know that I am not the best coach in the world necessarily, but I know I will work as hard as I can to be as good as I can be.
"It's a difficult time. I don't have thoughts as such in that I don't want to comment [on the protests] on the back of the game. I'm more concerned about the game and that we didn't win it.
"That's my first port of call – that's not me making light of anything, I understand the situation we are in here, I hear the noise but I have to keep working.
"The one thing I suggest, which is really important for me, is everyone involved here in every side is for Everton. We want to be successful, we are passionate about what we do.
"We need to just work in our own way to do the best and my own way is to wake up [on Sunday] morning and go: 'OK, let's go again'."