Euro Leagues podcast: Premier League 'almost bankrolling' European football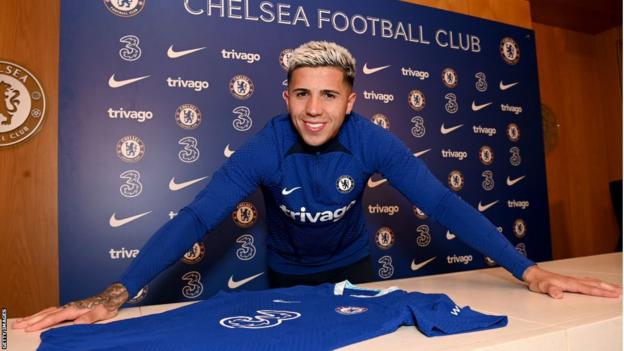 The Premier League is "almost bankrolling" European football, with La Liga, Serie A, Bundesliga and Ligue 1 in danger of becoming "feeder leagues", says French journalist Julien Laurens.
Premier League clubs spent £815m during the January transfer window.
That is over four times the combined £198m in Spain, Italy, Germany and France.
"Right now the only league where you can afford anyone is the Premier League," said Laurens.
Speaking on BBC Radio 5 Live's Euro Leagues podcast, the French football expert added: "Bournemouth have the capability of spending £60m or £70m in one transfer window in January. The other leagues can't become feeder leagues to the Premier League, but right now that's how it looks.
"People that run French clubs, they're relying on English clubs to spend £20m or £30m to sign one of their players. If you have a young player that's not too bad in Ligue 1 someone from England can say 'he might be good, here's £40m'.
"The Premier League is almost bankrolling European football.
"If English clubs were only spending money buying players in the Premier League a lot of [French] clubs would be thinking 'oh, no, we need that money'.
"Fifa and Uefa have to look into it. I don't know if you could limit the spending to £100m or £150m [per club], I don't know if that's possible."
The British transfer record was smashed on deadline day with Chelsea signing Benfica's Argentina midfielder Enzo Fernandez for 121m euros (£107m), with the Blues spending about £288m in January alone.
"It's incredible the country that protested the most against the Super League is [effectively] the Super League," added James Horncastle, an expert on German football.
"You can't criticise the Premier League for being the best commercially run league in the world. But It saddens me that Europe has just become development leagues for Premier League teams."
Horncastle felt the Premier League clubs will have a problem getting rid of their unwanted players, as nobody else would be able to afford the transfer fees or cover their wages.
He added: "Premier League clubs are so much richer than the others. They sign these players for huge amounts, give them 'reasonable' wages for Chelsea, but those wages are super, super expensive compared to the European clubs, so it's difficult to sell or loan them into Europe.
"When Manchester City were selling Gabriel Jesus and Oleksandr Zinchenko they sold them to Arsenal, Raheem Sterling they sold to Chelsea.
"European clubs can't afford these players in the Premier League, even those sitting on the bench. What they earn is too expensive for German teams."
Figures from financial services company Deloitte say the spending by English top-flight clubs accounted for 79% of the total across Europe's 'big five' football leagues.
"In the last five years £1bn went from England to France, £1bn from England to Germany," said Belgian football journalist Kristof Terreur.
"The Belgian league likes to sell their players to English clubs.
"The Belgian clubs all made a loss of 200m euros in the last accounting period, then the Premier League comes along and they can sell their players – the Premier League is saving them.
"It is a pretty desperate situation in Europe."