Carra: Why Lewis is perfect fit for Pep's full-back evolution
Jamie Carragher has heaped praise on Manchester City full-back Rico Lewis, hailing the 18-year-old as the 'perfect fit' for Pep Guardiola's system.
Riyad Mahrez struck twice as City staged a stunning fightback to reignite their title hopes with a 4-2 win over Tottenham.
The Premier League champions were rocked when Spurs scored twice through Dejan Kulusevski and Emerson Royal in the closing moments of the first half after Ederson errors at the Etihad Stadium.
After a quickfire double from the hosts, Lewis made a crucial block to deny Ivan Perisic the chance to restore Spurs' lead on the hour-mark with the youngster deflecting his shot onto the woodwork.
The versatile defender didn't know too much about the block, but it was an intervention that could prove crucial in the final reckoning after City completed a stunning second-half turnaround.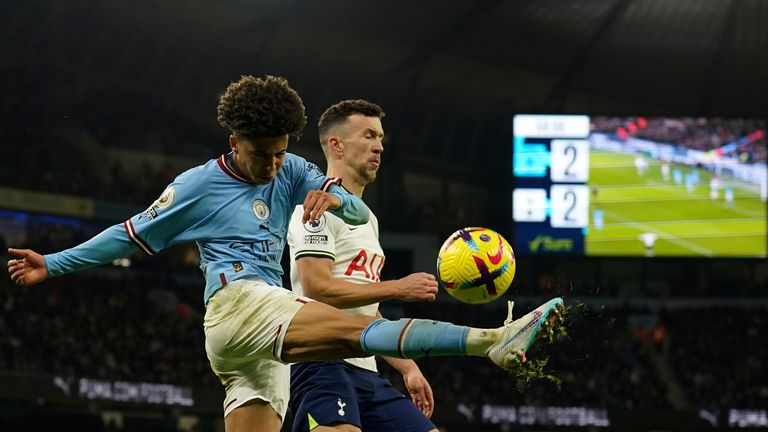 Carragher believes Guardiola turned to Lewis from the start on merit, and having previously excelled on the left side of defence when preferred to Joao Cancelo, he more than vindicated his selection ahead of Kyle Walker on Thursday night.
"That young lad deserved his luck with the Perisic chance," Carragher told Sky Sports. "What he's doing now at 18… it's not just playing the position he's playing – it's his tactical understanding to go into midfield.
"He's playing ahead of England's right-back. At 18, to be taking the place of a seasoned international – a guy who has won almost every trophy you can win.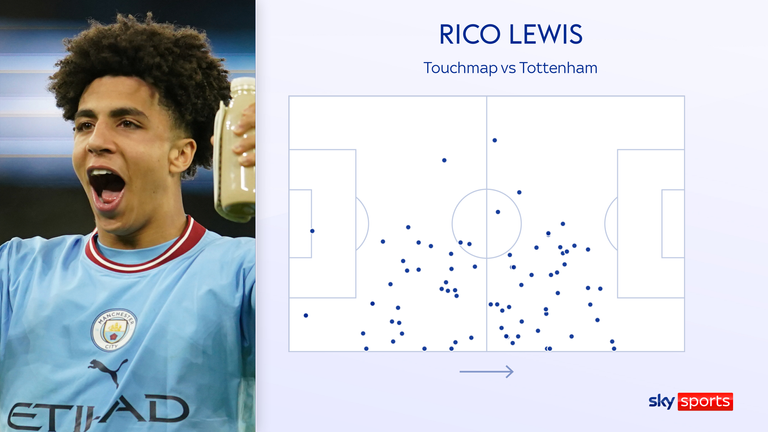 "I don't think it was a case of rotation tonight. I don't think Pep was happy with Kyle Walker at Old Trafford, and this lad has been absolutely outstanding every time he's played and [Guardiola thought] 'I'm going to put him into a huge game that Manchester City have to win'.
"They had to win, and he was absolutely fantastic. When Pep Guardiola came into the club six or seven years ago, you could see in his first game what he wanted from his full-backs.
Please use Chrome browser for a more accessible video player
Manchester City boss Pep Guardiola didn't hold back in his post-match interview. Before Guardiola walked away from a question, he claimed his City side, and the fans, have lacked 'fire'.

"It's not something that's grown over time as you could see it straight away. Lewis would've been around 11 then in the academy, so it's something which would've been fed down the age groups very early on.
"It's gone right through the academy how Guardiola wants his full-backs to play so he's been trained to be like this over many years. Even though we're lauding him for doing it, he's probably used to playing in this way, week in, week out with the junior sides.
"He's the perfect fit."
Lewis gives Guradiola control
Faced with the prospect of trailing leaders Arsenal by eight points and having played a game more, Guardiola's side roused themselves after the break.
City were booed by a small section of fans as they headed for the dressing room but their response was remarkable – and Lewis' mature performance was a catalyst in the home side's comeback.
Man City Women's midfielder Izzy Christiansen added: "He's more reliable in possession. His close control is exceptional and he releases the ball at the right time. He's got massive defensive instincts.
"Pep Guardiola knows how good he is and every time I've seen him play this season, Kyle Walker brings a more dynamic style to his play but Guardiola wants control of the game.
"Right now, Rico Lewis is giving him that control because his game understanding is years beyond his age.
"In the first few seasons under Pep at City, the full-backs were over-lapping and under-lapping. We don't see that so often now as the modern full-back in Pep's system is Rico Lewis. He's playing a deeper No 6 role, controlling the play with Rodri. He's playing on the same line.
"I see an evolution in what Guardiola's doing because Walker assisted against Chelsea in the FA Cup with an overlap against Chelsea but that is the old Man City. This is another facet of Guardiola's evolution."
Richards: Pep's full-backs now midfielders
Please use Chrome browser for a more accessible video player
Rico Lewis says the season isn't over and it's the same Manchester City that's won the Premier League in recent years, feeling their comeback shows the rest of the league that they're 'not here to mess about'.

Former Man City defender Micah Richards told Sky Sports:
"The reason the full-back under Pep now plays in this manner is to leave the wide men free, and leave them one-on-one. So many times tonight, Lewis dragged Son inside with him to leave Stones to get on the ball to play out.
"Technically, he is fantastic. I don't want to put too much pressure on him. When Kyle Walker burst onto the scene at Spurs, he was a marauding full-back. He has learnt a different system.
"Lewis has been brought up through this new one, and that's why he looks so comfortable."
Why full-back evolution is lopsided
Please use Chrome browser for a more accessible video player
FREE TO WATCH: Highlights from Manchester City's win against Tottenham in the Premier League.

Carragher added: "When we talk about the evolution of the full-back, we're talking about Manchester City and Arsenal. They're two teams with similar principles as Mikel Arteta is a pupil of Guardiola.
"No one else does it. The reason Pep does it is because he likes his wide players so wide and then his two midfielders playing as No 10s. That means he'd be left with one central midfielder so one of the reasons is not just to get on the ball in possession.
"It's actually just to stop the counter-attack. So you almost have five forwards and then five behind the ball. That was a problem for Man City on the second Spurs goal when Rodri was left on his own.
"City would play Stones at right-back when they were playing out the back with Nathan Ake on the left, Akanji on his own in the middle with Lewis in midfield with Rodri so it was almost a 3-2-5 Pep was playing.
"These systems teams now play are fantastic and a lot of it is down to Pep Guardiola when he came in at Barcelona. He changed football. Now, a lot of people follow his model but I still feel the full-back position is still very much Pep's and Arteta's. Teams still don't do the same right now."